Introducing Darren Feenstra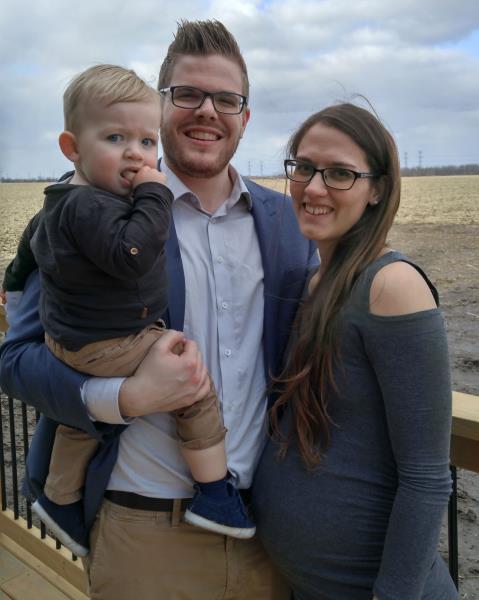 Hi, my name is Darren Feenstra and this is my lovely wife, Laura, and our little guy, Aziah (or Zi, to keep things easy). Well, here we are approaching the final countdown of our time at seminary! What we thought would be a long four years has flown by and left us spinning. But more on that later; I will try here for a little chronological organization.
I was born in Guelph, the youngest of six in a minister's family. Most of my childhood I spent roaming the countryside of beautiful Owen Sound. I feel very blessed to have had these years with solid Christian upbringing within a tight-knit community. But things can't stay the same forever so, after one gruelling year of homeschooling for Grade 9 (gruelling for my mom because of me), we picked up our roots and headed south to Grand Valley and to Emmanuel Christian High school in Fergus. I do believe that my dad had ulterior motives here, as he proceeded to marry off his remaining children in these years.
And I was not immune. I met Laura in high school, though we went to the same church as well. And despite the fact that we had a chemistry class together (pun intended), it took me a while to notice her as she was a grade above me. We even went on the same bus. Yet my only memory was that one day, when it was raining, she tromped on the bus with rubber-boots (decidedly not high-school fashion at the time) and I thought to myself, "Hey, that is one practical girl. What a keeper!" So from then on I think my sub-conscience pushed me in her direction. We started dating when I was in my second year of university, and were married a few short weeks before heading to Hamilton to begin seminary training.
The journey into the seminary was not a straightforward one for me. Growing up as the son of a minister, I would receive comments about following in my father's footsteps. So I decided early on that this was the last thing I would do; working at a car dealership, selling sweet cars, that was more up my alley (at least in grade four). But God had different plans for me. As high school ended, one of my best friends pulled me along into preparatory studies for seminary at the University of Waterloo and, to my chagrin and shock, I found I was enjoying it.
While in seminary, Laura and I felt more and more confirmed that that this was the right direction for us. Not that seminary did not come without its trials; I did have to battle doubts here and there whether I should continue pursuing the ministry. But, by God's gentle nudging and the support of loving family, friends, classmates and profs, I am now in the final stretch. And it has been good! Through our seminary years we developed friendships and encouraging relationships. We had the honour of being shown "the ropes" by faithful servants of God's word while in internships here in Ontario, BC, and on the other side of the world, where God is working in PNG. We welcomed Zi into this world in my third year and are looking forward to welcoming another little one this June. We have learned so much about the grace and goodness of our Saviour and yet we can see that we have only scratched the surface of what it means to know him. So we are eager to serve him as a new page of our life unfolds, wherever that may be. Praise him, from whom all blessings flow!