Introducing Filip Sylwestrowicz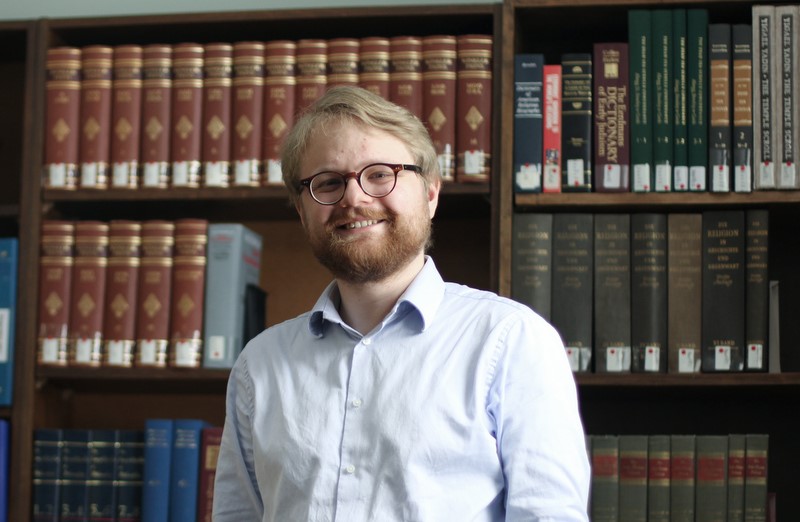 Hello! My name is Filip Sylwestrowicz [pronounce Sylvestrovits] and I came to CRTS from far-away Poland. I guess that many of you wonder how did it happen? After all Canadian Reformed Churches do not have ecclesiastical fellowship with any church in Poland, nor was there any CRTS student from my country before. It's my pleasure to introduce myself to you and, hopefully, clarify somewhat the mystery behind my coming to CRTS.
I grew up in Warsaw, enjoying its vibrant life, many coffee shops (a lot of good coffee!), and second-hand bookstores. I am also one of the less than 1% of Poles who grew up in a Protestant home. Our Lord has given me a great privilege of being exposed to the gospel since my childhood. My parents faithfully instructed me in the basics of the Christian faith and taught me to read and treasure God's Word. Initially I was not planning to pursue the ministry; instead, I choose the math and physics track in high school in preparation for engineering studies. However, our Lord was gradually changing my mind. On the one hand, I was discovering a passion for Biblical languages and studying God's Word in depth. On the other hand, I was more and more aware of the great need in my country for people who would be able to help others understand Holy Scriptures better. This lead me eventually to the University of Warsaw where I majored in Hebrew, but also took classes in Classical Greek, Latin, and history.
While I was studying at the university, the Lord was continuing to shape my theology. With a group of friends, we started a Bible study, first on our university campus and later in the coffee shop nearby. During the first year of my studies we read together Paul's letter to Galatians and this turned my theology upside-down. At that time I was a Calvinistic Baptist. I read many popular preachers associated with the Young, Restless, Reformed movement, but I lacked a deeper understanding of God's covenantal dealing with his people. However, while studying Galatians with my friends, I realised that believers are truly "sons of Abraham" (Gal 3:7). Despite differences between the old and new covenant, there is also a deep continuity underlying the progression of God's plan of redemption. This discovery set me on the path which, several books later, lead me toward confessional Reformed theology.
As my graduation from the university was approaching, I had to decide what to do next. Since the Protestant community in Poland is very small, there are only very few options for Protestant theological education there. None of the theological schools in my country are confessional and Reformed. I knew that if I am to be well prepared for ministry, I needed to consider studying abroad. But I still didn't even know that CRTS exists! I'm still amazed how God providentially arranged things. As I was discovering Reformed theology, I met Dr. Brycko, who is now Associate Reformed Presbyterian (ARP) missionary in Poland. When I told him about my desire to pursue theological education, he suggested to me that I might apply to the seminary where his friend Dr. Van Raalte was teaching. So, I did and now four years later I can't believe that I am almost done with my MDiv studies!
These past four years were a very unique time. I am deeply thankful to the Lord and to Canadian Reformed Churches for making it possible for me to come here and study theology. Although I was so far from my beloved Warsaw and family there, I quickly realised that the CRTS community is bound together by unique comradery. I was warmly received despite my stubborn aversion to dropje! And I did contribute to that community by tirelessly trying to convince everyone around that there is no such a thing as "too much coffee."
As this chapter of my life is closing, I am looking forward to the next steps. I am planning to continue my studies by pursuing a graduate degree in the New Testament in the United Kingdom. Afterwards, I hope to return to Poland and I am looking for Lord's guidance in how I may serve him there.