To read a meditation written by Iwan,
please click here.
Introducing Iwan Borst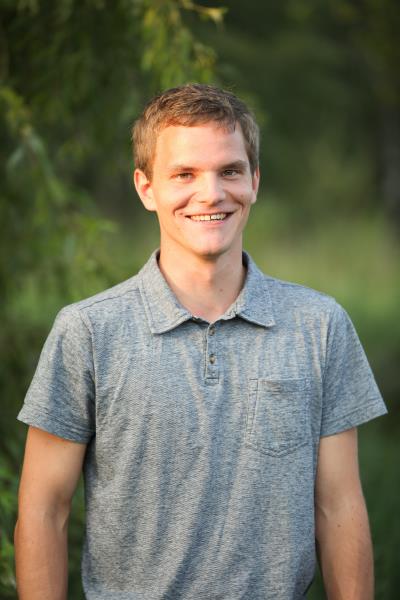 Hi, I'm Iwan Borst and one of the fourth year students at CRTS. Let me introduce myself: I'm the oldest child of Ralph and Maaike Borst, born some 24 years ago in a small prairie town called Carman. As I grew up, we would go to Carman for church and school, but our home was in the even smaller prairie town of Elm Creek. Or should I say, we lived in the rural area surrounding Elm Creek. Indeed, you had to get off the paved road to get to our house.
Although we loved the Manitoban seasons of mosquitoes and bitter cold, my parents decided that the Old Country wouldn't be a bad place to raise a family. I didn't protest: I loved stroopwafels and I already had the indispensable word "snoepje" down pat. So at age seven, we left Carman and headed for the Netherlands where we stayed for the next eleven years. In Holland, we lived both in Berkel en Rodenrijs and IJsselmuiden. As I started to reflect on my gifts and interests in high school, I began to consider studying theology to become a dominee. And as I planned, my mind was more or less set on studying in Kampen, since the Theologische Universiteit was only a short bike ride from our house. I had probably never heard of Hamilton or CRTS.
That changed, however, when I entered my final year of high school. As a family we decided to cross the pond again; it was going to take more than a bike to get to seminary. I finished high school in the Netherlands and made plans to study at the University of Manitoba in Winnipeg. Set on going to seminary, I soon graduated with a BA and applied to CRTS. While in Manitoba, I was more or less reconnected with much of my family and my prairie roots by spending most of my holidays working on my uncle's dairy farm. Without sheep to shepherd, I guess this was the next best thing in preparation for pastoral care.
And so, almost four years ago, this prairie boy left the dusty gravel roads of Elm Creek to move to bustling Southern Ontario and to Hamilton in particular. Here I was, high school only a couple of years behind me, attending classes with guys superior to me in years, experience and wisdom. I can say that it has been a great experience. As iron sharpens iron, so one man sharpens another… and over the four years a lot of sharpening has been done: not only in the seminary classrooms, but also in the catechism classes and with mentors (Rev. Agema, Rev. Wildeboer and Rev. VanWoudenberg) during internships. And in the past year it has been a blessing to be able to experience the fruit of this sharpening by teaching and leading worship in various congregations here in Ontario and back home in Manitoba. But what made the experience truly great was the fellowship and friendships that formed during and after the sharpening. For growing can be painful, but when classes can end with laughs and good conversations with friends, these growing pains are much easier to bear.
Altogether, by God's grace, seminary has been a great opportunity to learn and grow in the knowledge of God and his work of salvation. And the more that I have studied here, the more my desire to enter the ministry has grown. And yet, I'm not done studying. So at the moment I am making plans to study further and also use these gifts and opportunities that the Lord gives. The Lord has been good and he will remain faithful. He has provided in these last four years and will continue to provide in whatever comes in the next four and thereafter. And perhaps, I pray, he will use this love for the ministry in his church at a future time.