Introducing Chauncey Knegt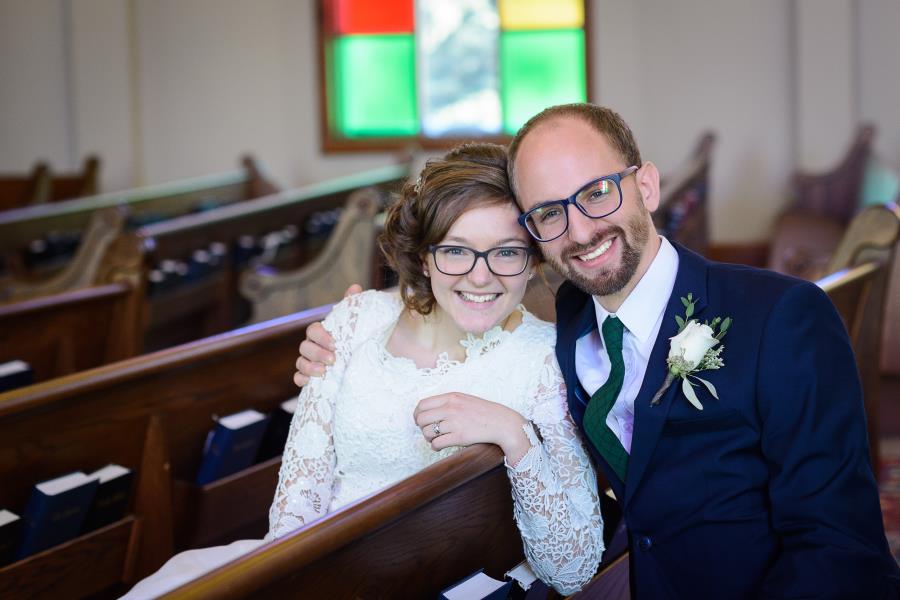 Hi! I'm Chauncey, and this is my dear wife Emily. Both of us are eagerly counting down the days as my seminary studies draw to a close. We look forward to serving our Lord Jesus and his Church wherever he will call us!
Both Emily and I are the oldest children in our families. Emily is the oldest of seven. I am the oldest of nine children. My youngest brother is three. In my formative years I spent a lot of time with the Oosterhoff side of the family, which is my Mom's side of the family. One thing this involved was a disproportionate amount of time spent on the farm for a town kid. There were many summers spent exploring the woods, building forts, and feeding the imagination at that farm. The current Member of Provincial Parliament for Niagara West, my little cousin Sam, grew up on this farm as well. Another thing this involved was singing high-quality choir music with the Pro Musica Choir—the make-up of the choir was one-half Oosterhoff.
Another aspect of my growing-up years was my schooling. I went to John Calvin School in Smithville for grades 1-8, and then to Guido de Brès in Hamilton for high school. In elementary school, Mr. Jason Heemskerk taught me in both grade 6 and 8, and he inspired me with his excellent story-telling in the Bible and Church History classes. In high school, Mr. George Alkema introduced me to Christian world-view thinking through his history courses and encouraged me to pursue post-secondary studies in history.
In 2010 I entered Brock University and began a history degree. During the second year of my studies, I transferred to the linguistics program at McMaster University, thinking to pursue a career in Bible translation. It was during this time, however, that I also began to have thoughts about seminary training and pastoral ministry. I came to know a number of different people, both Christians and unbelievers, and through the practice of sharing the gospel became even more convinced of the beauty and glory and promise of the good news about Jesus Christ. I began to think: "wouldn't it be wonderful to make preaching the glories of Christ my life's work!" I graduated from McMaster with a B.A. in History and Linguistics in 2015 and began at CRTS that same year.
My time at CRTS has been busy, and not always easy, but the Lord has provided for me (and us) each step of the way. I have struggled with loneliness at times, been lifted up by the love of God's people, battled through books and assignments, met and married my wife, and together dealt with the loss of our two children Jaida and Jaimen ("He knows" and "He is faithful") due to miscarriage. In between the academic terms, I was able to work in landscaping and participate in internships. After first year, I got a taste of the pastor's work by shadowing Rev. Mark Jagt in Fergus, ON for two weeks. After second year I was able to travel to South Africa and see some of the Lord's work in the coloured community in Cape Town, and the work of the Reformational Study Centre based out of Pretoria. Most recently, after third year, I was able to serve in the Carman West congregation under the mentorship of Dr. Andrew Pol over a period of three months. These have been wonderful, encouraging opportunities, and have reaffirmed those earlier thoughts of "wouldn't it be wonderful to make preaching the glories of Christ my life's work!" With God's help, I hope to present myself to the churches for call this coming June.