Introducing Matthias Schat
Hi! My name is Matthias Schat, and I am a fourth year MDiv student at CRTS. This is my wife Kailee, and our little son, Elijah. Both Kailee and I are originally from Perth in sunny Western Australia where we were members of local congregations of the Free Reformed Churches.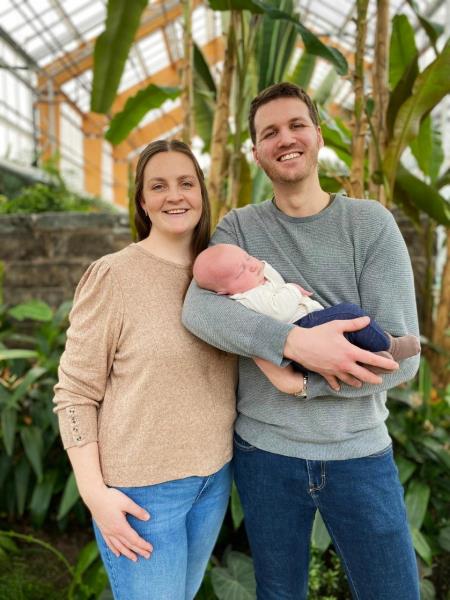 My path to studying for ministry has been more like a winding than a straight road and has taken us around the world. Pastoral ministry was not something I was pursuing after school or during my first degree at university. Instead, after completing my undergraduate degree in Western Australia, I moved to Scotland in 2015 where I lived and worked for two years. God blessed me richly through my time in my local Free Church of Scotland congregation in Edinburgh. It was during my time in Scotland that God really placed on my heart a desire to begin studying for pastoral ministry. Upon arriving back in Perth in 2017, I began supplementary language studies to prepare for attending CRTS while also working.
After getting married in 2019, God opened the way for Kailee and I to move to Canada to begin studies at CRTS. God has been truly gracious and good to us in the last three-and-a-half years, and we have felt very much at home here in Ontario.
During my time at seminary, the Lord has blessed me with some wonderful internships. My introductory internship in 2020 was with Pastor Jake Torenvliet at Redemption CanRC. The following summer, I undertook a 10-week preaching internship under Pastor Marc Jagt in Fergus North. This past summer, Kailee and I were privileged to go to Scotland to undertake a mission/evangelism internship in a church plant of the Free Church of Scotland in Inverness. I was blessed to work there under church planter Rev. Chris Davidson. It was so wonderful to see God's work in this very different context, and to witness the fruits of gospel ministry there. After arriving back in Canada, we could also spend 5 weeks serving Living Word CanRC in Guelph, working under the supervision of the consistory there during their time of vacancy. I am so thankful to God for the blessings of these great mentors and these wonderful learning opportunities.
My time at CRTS has been an incredible blessing. It is such a joy to spend time studying God's Word, and to experience firsthand how the gospel of Jesus Christ transforms lives and changes hearts. It has also been an amazing opportunity to bring God's Word to His people since being given permission to speak an edifying word, and to spend time walking alongside the communion of saints in this special way.
God willing, I'm hoping to go before classis to become eligible for call in June. While we're enjoying these last few months of seminary life, we are also looking forward to finishing and seeing where God leads us. In all things may He be praised.